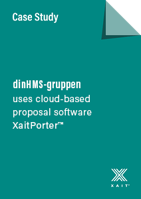 Details
Document Type: Case Study (PDF)
File Size: 886 Kb
Pages: 4
Year: 2020
[...]
Since adopting XaitPorter, it's safe to say dinHMS- gruppen is pleased with their results. The organization as a whole is better able to manage the creation, maintenance and application of content across their live documents.
– Using XaitPorter has helped us spend considerably less time creating large and complex documents. We can focus more on getting the content right, both in terms of differentiating ourselves and presenting a proposal that exudes quality. This gives us an edge over our competition, which in turn makes us more likely to end up in the winning pile.
Pål Lillebø and his team see a direct correlation between using an enterprise-grade proposal solution and winning more business:
– After adopting XaitPorter, we have won quite a few contracts with public authorities, and to us, it's obvious that the tool greatly contributed to the end result.
The CEO sums it up:
– Clients have also remarked that our proposal was the most professional one they received, and that's a pretty cool feedback to get. In fact, one client informed us that we were the only bidder presenting the proposal in one document, without a bunch of appendices.
[...]